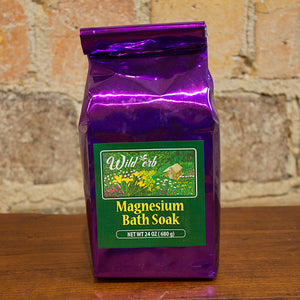 Wild'erb™ Magnesium Bath Soak
Our soothing Wild'erb™ Magnesium Bath Soak is the most stress free way to help put enough magnesium back into your body.  When you are deficient in magnesium it can show up in many undesirable symptoms so being able to soak in a bath with magnesium chloride is another way to make sure you get more. Can also be used as a foot soak. 24 oz. purple bag contains four separately packaged 6 oz. baths or divide in half for eight foot baths or try our 6 oz. sample.

The oils in the Blends:
Brisk Blend: Rosemary, Peppermint, Lemon, Grapefruit, Ginger Root & Lavender.
Relaxing Blend: Lavender, Tangerine, Rose & Orange Oil.
Serenity Blend: Lavender, Rosemary, Ylang Ylang, Orange, Lemon & Lime.
Herbal Blend: Frankincense, Copaiba Balsam Fir, Amyris (like Sandalwood), Orange and Clove.

INGREDIENTS: Pure dead sea salt from Israel, Fragrance or Essential Oil.
---
We Also Recommend
---