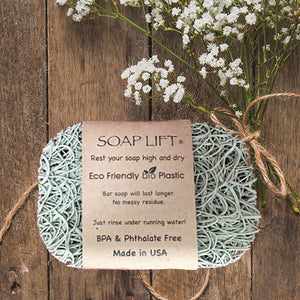 Soap Lift Soap Saver
Soap lift is a soap saver that works wonders! Not only does it save you time cleaning up but it also protects your precious handmade soap from wasting away.
Dimensions: 4.25" W x 3" H
Soap lifts can be cut with scissors to fit the perfect decorative soap dish. It's also great for helping soap stay on your shelf in showers and sink edges. The light-weight BPA free, made in the USA, vinyl-like material allows water to drain away properly and air to circulate to prevent unwanted melt.
Easy to clean, just hold it under running water and squeeze a couple times.
---
We Also Recommend
---