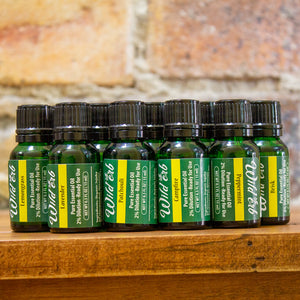 Wild'erb™ Essential Oil 15 ML Dropper
100% Pure Essential Oils in an extra large dropper bottle - Safe for diffusers, needs to be diluted with a carrier oil of your choice before using on your skin.
Here are a few of the oils in the blends (single oils aren't listed):
Brisk Blend: Rosemary, Peppermint, Lemon, Grapefruit, Ginger Root, Lavender.
Bye Bye Bugs Blend: Oil of Lemon Eucalyptus, Lavender, Vanilla.
Campfire Blend: Frankincense, Cedarwood, Tangerine, Cinnamon Leaf.
Clary Sage Blend: Clary Sage, Cedarwood, Lavender.
Herbal Blend: Frankincense, Copaiba Balsam Fir, Amyris (smells like Sandalwood), Orange, Clove.
Relaxing Blend: Lavender, Tangerine, Rose, Orange Oil.
Serenity Blend: Lavender, Rosemary, Ylang Ylang, Orange, Lemon, Lime.
Thieves Blend: Cinnamon Bark, Clove Bud, Rosemary, Lemon, Eucalyptus.

Our droppers are made with a dark green glass to protect the oil from sunlight. Store in a dark place like your purse, pocket or desk drawer for easy access and protection from light.

Do not ingest. If you experience any negative reactions to essential oil or any skin products, stop using immediately.
INGREDIENTS: 100% Pure Essential Oil.
---
We Also Recommend
---